Topic: Helpful Ideas, Projects|
11 Comments »
Note: Welcome to Startup Students. If you enjoy this post, don't forget to Stumble, comment, and subscribe to the RSS feed!
Today I'm taking you into my home office to show you how I've set up shop. I work out of my room (like lots of college entrepreneurs), but I make the best of it.
First a quick tour, then I'll go into more detail on two projects you can implement for your home office.
I've got a corner desk, with room for writing, working on the computer, and organizing my belongings. You'll notice two monitors and a WACOM tablet – essential tools for a web developer. Under the desk you'll find a dual core desktop – perfect for running photoshop, flash, and dreamweaver at the same time as I often do.
I carry a laptop and my T-Mobile Dash everywhere I go, very convenient for staying in contact with my clients while on campus or around town.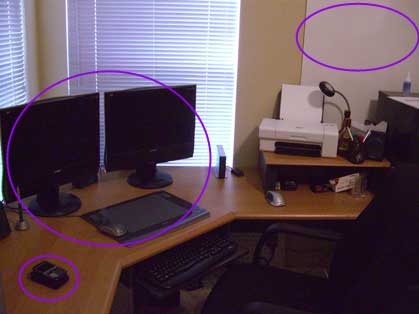 Off to the right you'll notice my filing cabinet and above that my whiteboard, and that's the first project I'll be discussing. I got the idea from Dave's post over at Mind Petals and decided to put the plan into action. Click below to keep reading. Read the rest of this entry »