Topic: Helpful Ideas, Projects|
11 Comments »
Note: Welcome to Startup Students. If you enjoy this post, don't forget to Stumble, comment, and subscribe to the RSS feed!
Today I'm taking you into my home office to show you how I've set up shop. I work out of my room (like lots of college entrepreneurs), but I make the best of it.
First a quick tour, then I'll go into more detail on two projects you can implement for your home office.
I've got a corner desk, with room for writing, working on the computer, and organizing my belongings. You'll notice two monitors and a WACOM tablet – essential tools for a web developer. Under the desk you'll find a dual core desktop – perfect for running photoshop, flash, and dreamweaver at the same time as I often do.
I carry a laptop and my T-Mobile Dash everywhere I go, very convenient for staying in contact with my clients while on campus or around town.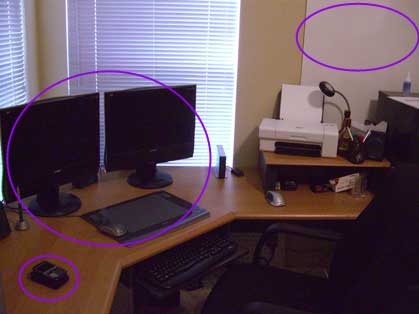 Off to the right you'll notice my filing cabinet and above that my whiteboard, and that's the first project I'll be discussing. I got the idea from Dave's post over at Mind Petals and decided to put the plan into action. Click below to keep reading.
First thing you need to do is make sure you've got the room. This thing is huge, measuring in at 4′ x 8′. You can find everything you need at Lowe's or Home Depot. The board is often referred to as shower board or tile board, and I found it in the paneling section.
You'll need the following tools and supplies for this job.

Power Drill
Drywall screws with anchors
4 washers if you want, it helps to disperse the weight from the screws
Level (not mission critical, but you want things to look good)
A friend to help

Begin by having a friend help you hold the board against the wall. Using your drill, punch a small hole through the board and into the wall to make your marks. Now insert your drywall anchors into the your predrilled marks.

You'll need to get your buddy to help out again. Move the board into place over your anchors and insert the screws. It's really that simple.

For under 20 dollars you now have a massive dry erase board, perfect for brainstorming or storyboarding your next project!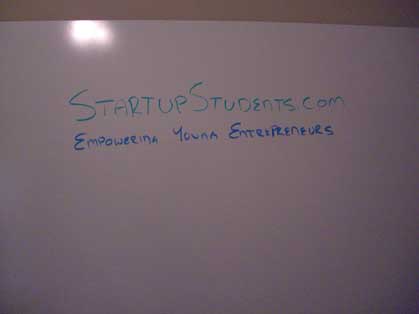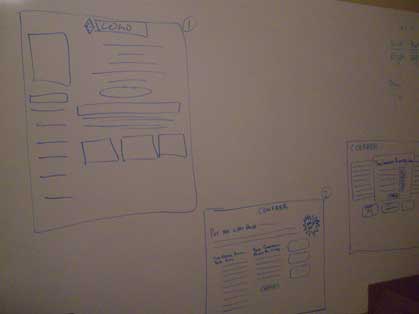 The next project is really useful for those with cheapo desks that have wide open areas underneath showing off your mess of cables. Here's a before picture.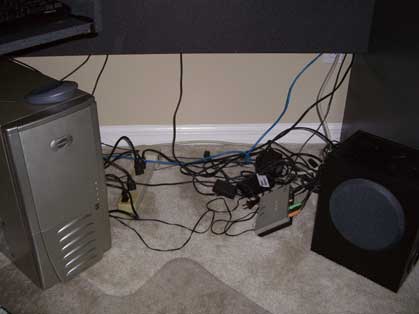 Doesn't look too good there does it? You can clean it up pretty easily with a hideaway board. For this project you'll need:
pegboard
zip ties
nail clippers
skill saw (or have them cut it for you at Home Depot)
I got lazy, but you might want screws and four 1in. segments of a 2×4
Simply take your junk wires and using the zip ties, strap them to the pegboard. Use your nail clippers to trim the zip ties down to a manageable size.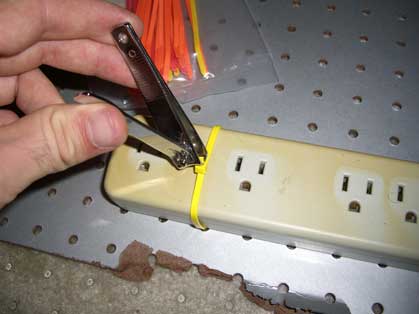 Again, I got lazy and just tucked it away, but you can make things look really clean by screwing it the the bottom of your desk so that it's completely out of site.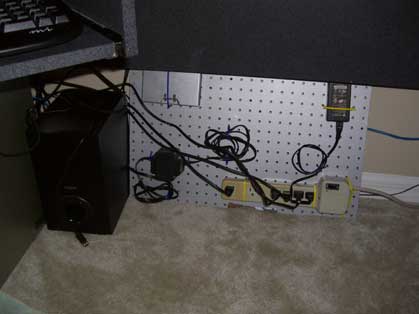 If you have any suggestions or photos of your ultimate home office, feel free to send them in!