Topic: Helpful Ideas, Startups, Strategies, Top 10|
2 Comments »
I'd like to start off with a quick anecdotal story. There were three frogs sitting on lily pads. Two of them decided to jump off into the murky water. How many frogs remain perched on their pads? One you say? Guess again!
There's still three frogs sitting there. Why? Because they didn't take action. They decided to jump off the log, but never followed through.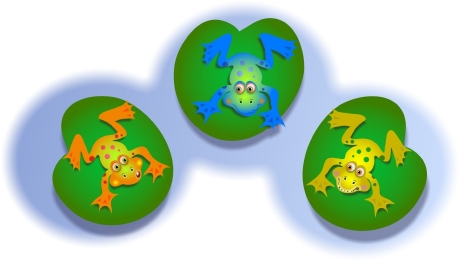 How many times have you decided to increase sales or network with potential customers? And of those times you decided to do so, how often did you actually take action?
Enjoy the following 82 ways to market your business, but don't forget to take action and actually put them to use!
Stand Out – Especially when working online, you only have a few seconds before users hit the back button!
Smile – Did you know that, even over the phone, you facial expressions can be detected?
Stay Current – Read blogs, books, newspapers, magazines and discus your findings with clients. ("I agree, in fact I read an article about that this morning!")
Record a memorable voice mail message
Develop A Reward System – Reward loyal customers with discounts, gifts, or free consultations.
Integrity Matters – Integrity is one of the top qualities of successful entrepreneurs.
Use layman's terms
Be consistent. If a campaign works, stick with it.
Package Pricing – Clients find this more appealing than an hourly rate.
Press Outweighs Advertising– A carefully written article or press release will outperform an advertisement every time.
Define Your Niche
Build It And They Will Come – I'm not saying don't plan first. But at he same time, don't let your competitor beat you to the punch.
Sell the Value – Nobody cares how your product is made. But they do care why it brings value to them.
Action Words Sell – But don't overdo it.
Ask Questions – Engage your customers, competition, associates, and mentors.
Anticipate – Have answers ready for frequently asked questions.
Include links to your website and blog in voice messages
Public Speaking – Go read "I Can See You Naked" and then solicit networking groups for speaking opportunities.
It's about YOU – Take I out of the equation and focus on the customer.
Resolve Issues Quickly – If a customer has a bad experience, they'll tell at least 10 people. Take action and resolve disputes immediately.
Get feedback – And engage customer's as to how to correct any issues.
Don't over-promise, over-deliver
Dress for the success
Be relevant – Don't sell a truck to someone who needs a bike.
Respond Immediately – Take the time, best if within 24 hours, to get back to customer emails and phone calls.
Network – Groups such as local Chambers of Commerce, BNI, and Industry Associations offer a great ROI.
Show passion – People respond in kind and generally buy from those they like.
Stay Organized – keep a contact database.
Be Concise – Your customers don't have all day.
Collateral – Keep your marketing materials simple and to the point.
Get Their Attention – Create catchy headlines and memorable quotations.
Know Your Competitors – Learn how/what/why they do and then beat them at their own game.
First Impressions Matter – So make the best of it!
Don't Compete on Price – Instead, focus on creating value for your customer.
A Great Team – A great idea with a poor team will lose out to a great team with a poor idea.
Develop Your Pitch – Have a 15, 30, 60, and 120 second elevator pitch ready at all times.
Give Back – Community involvement makes good business sense, and good karma sense!
80/20 Rule – Listen 80% of the time and only talk 20% of the time.
What's Your Brand – What do you think of when you see Mercedes? Or when you see the "Can you hear me now?" commercial? What do you customers see when they hear your name?
Don't oversell, over-educate
Remember Your Marketing Courses – Product, price, and placement still matter!
Freebies – Sometimes they work better than offering a discount.
Podcasts – Along with webinars and ebooks are great ways to infer credibility.
Develop A Mailing List – Then send out a monthly newsletter.
Testimonials – Your current clients owe you one if they are satisfied.
SWOT – What are your Strengths, Weaknesses, Opportunities and Threats?
Say Thanks – Show clients you care.
Have Fun – Let your creative juices flow when marketing.
Socialize – Use every social occasion as a networking opportunity. Have your business cards ready if someone asks for one.
Model Your Product – If you're a web designer, have an amazing web site.
Brainstorm – Dump all your ideas, then refine them.
Focus Groups – As simple as using something like surveymonkey.com
Self Publish – Writing a book will infer credibility.
Call To Action – Tell people what you want them to do.
Clients Have Needs – Find a way to fulfill them with your product or service.
Take Care with your spelling and grammar
Get a Lawyer – It's worth the money.
Timing is everything
Gather Collateral – Cut Out memorable advertisements and figure out why they work. Then combine them to create your own.
3rd Time is the Charm – People usually won't make a big purchase until they've heard about it three times.
Don't Make It Up – Nobody expects you to have all the answers – so don't pretend to.
Wrangle the Web – Social networks can be a great source of prospects.
Direct Mail – Postcards produce results over envelopes.
Business Cards – Keep it simple and easy to read. But make it stand out at the same time.
What makes you the best? Determine your unique competitive advantages
Relationships Matter – Develop strong relationships with your customers
Blog – Create an industry focused blog to gain credibility.
Follow up – Contact everyone you network with and mention an anecdote from your conversation.
Cold Calling – Click here for a sample script
Holiday Gifts – Show customers you care by sending out a promotional piece for the holidays.
Go With Your Gut – Your first instinct is usually right.
ROI – Don't spend what you cannot recoup.
Diversify – Just like in the stock market.
Plan For Success – Because it just might happen!
Educate Yourself – Attend college courses, or engage your local SBDC.
Outsource – www.elance.com
Become A Mentor – Help another small business or even a child.
Referral Networks – America is still a good ole' boys club.
Google Matters – Invest in Search Engine Optimization to assure you come up first in Google.
Find Another Market – What else can your product or service be used for?
Engage Complaining Customers – If they care enough to complain, they are worth trying to save.
Attend Tradeshows – Networking opportunities abound at these.